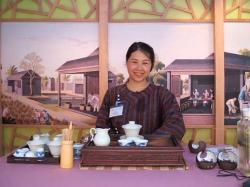 Until 4 December 2009, Royal China Club will be holding free afternoon Chinese Tea appreciation lessons with the renowned Hong Kong Tea Master, Shek Kwai Sim. With 20 years of experience, Shek Kwai Sim is a master of presenting the Chinese tea culture and the nutrients that each tea provides.
Guests can learn about the subtle variations between the different Chinese teas, which ingredients improve their health, and the teas that pair well with certain foods. Samples of Flower Scented teas such as Osmanthus and Jasmine Fairy, Green teas from West Lake Longjing and Taiping Houkai, and Greenish teas including Wuyi Roukwei and Dangui Oolong can all be tasted.
Alongside the tea lesson, guests will enjoy a delightful selection of Chinese pastries.
The Royal China Club is the premium restaurant within the Royal China Group. The restaurant offers a modern interpretation of classic Chinese cuisine, and elegantly presented Dim Sum. With its intimate setting, the restaurant has an exclusive and elegant ambience.
The dining area seats 86 guests, while an elegant private banqueting room to the rear of the restaurant accommodates up to 22 guests
There are 12 spaces each day for the tea class. To book a space contact the Royal China Club. The lesson starts at 3pm and finishes at 4.30pm, with the lessons running Monday – Saturday.