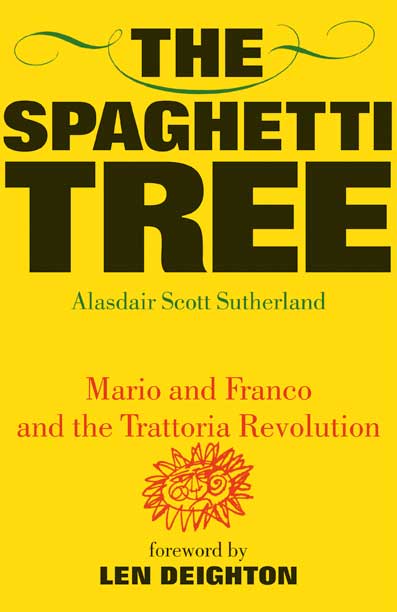 The story behind the popularity of Italian food in Britain will be revealed at a series of special events at Carluccio's in April and May.
Between 6.30pm and 8.30pm on selected dates, Author Alasdair Scott Sutherland will host an evening of fine Italian food, wine and literature as he tells the story behind his brand new book 'The Spaghetti Tree: Mario and Franco and the Trattoria Revolution. A book signing and live Q&A session will follow before all attendees enjoy an authentic, two-course Italian dinner for just £8.50.
The Spaghetti Tree is the colourful and untold story of Britain's growing love affair with Italian food. Before the Trattoria Revolution, many Britons believed the 1957 BBC Panorama April fool story that spaghetti grew on trees. Alasdair's book charts the Italian invasion of Britain's food and restaurants, of which Antonio Carluccio, with his TV series, his books, his seminal Neal Street Restaurant, and his eponymous Carluccio's caffès has been an integral part.
Guests will learn how the popularity of Italian food has spread, from simple trattorias in Soho in the 1960s, through to today when pasta, pancetta, pesto, prosciutto, polenta, pomodoro, pecorino and parmesan can be enjoyed across the country. After which they will have the chance to indulge in a delicious Italian two-course meal with coffee for just £8.50, or add a glass of wine from the carefully selected list, for £11.50.
Starters include a savoury bread tin (focaccia, grissini, Linguarian ciappe and sliced breads served with butter or extra virgin olive oil) or insalata mista (fresh buffalo mozzarella served with wedges of oven-roasted tomato, fresh tomatoes, basil, focaccia bread and black olives, dressed with extra virgin olive oil). To follow, choose any home-cooked pasta dish from the Carluccio's menu. Favourites include penne giardiniera (Carluccio's Pugliese penne with courgette, chilli, and deep fried spinach balls with parmesan and garlic) and spaghetti alle vongole in bianco (Neapolitan spaghetti with whole fresh clams, and a white sauce of garlic, herbs and chilli)
Alasdair will be signing copies of The Spaghetti Tree during the evening. The book will be sold at £14.99 and is available from all Carluccio's stores and online at www.thespaghettitree.co.uk
The Spaghetti Tree book launches will take place in the following cafés:
Hampstead 8th April 2009
Carluccio's Hampstead, 32-34 Rosslyn Hill, Hampstead, London NW3 1NH T: 020 7794 2184
Walton Upon Thames 14th April 2009
Carluccio's, The Heart, Walton Upon Thames, Surrey KT12 1GH
T: 01932 246 396
Fulham 15th April 2009
Carluccio's, 236 Fulham Road, London SW10 9NB T: 020 7376 5960
Cambridge 16th April 2009
Carluccio's, 1 Fisher Square, The Grand Arcade, Cambridge CB2 3QF T: 01223 307046
Oxford 20th April 2009
Carluccio's, 42 Oxford Castle, Oxford OX1 1AY T: 01865 249413
Brighton 23rd April 2009
Carluccio's Brighton, Unit 1 Jubilee Street, Brighton BN1 1GE T: 01273 690493
Tunbridge Wells 24th April 2009
Carluccio's, 32 Mount pleasant Road, Tunbridge Wells, Kent TN1 1RA
T: 01892 614968
Bristol 6th May 2009
Carluccio's Bristol, Quaker's Friar, Bristol BS1 3BU T: 0117 933 8538