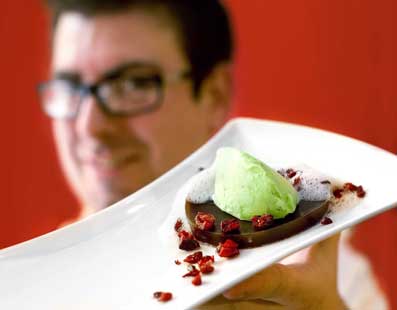 One of London's top restaurants has given traditional Christmas lunch a twist by creating the world's first Brussel Sprout Ice Cream served with a turkey jelly and cranberry foam.
Head chef Stuart Ferguson, of restaurant group Vivat Bacchus, has turned every traditional Christmas dish on its head to create the innovative new menu. It is quite frankly rather odd sounding but hey if Heston can do bacon ice cream and snail porridge why not put children's favourite vegetable into ice cream?
Stuart, aged 35, said his Christmas menu was designed to bring a much-needed update to a traditional meal eaten by millions.
"Let's face it, it may be eaten by the vast majority of people celebrating Christmas, but it's rarely something to truly look forward to. I have tried to retain the spirit of Christmas but doing things in a way no-one will ever have seen before. It's taken weeks to develop, but I'm delighted with the results."
The menu costs £35 per head and is available at the London Bridge branch of Vivat Bacchus at 4 Hays Lane, London SE1 2HB, and has to be booked a day in advance.
Starter
Mincemeat & Gruyere Pie, Rocket Salad
Main Course
Duck & Orange Christmas Pudding, Brandy Crème
Dessert
Turkey Jelly, Brussel Sprout Ice Cream, Cranberry Foam