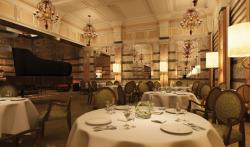 Built in 1887 as part of a 500-room 'grand hotel', the elegant and classical space, once named The Marble Hall, again opens its doors to the public having been occupied by the Crown since 1940.
Boyd's Brasserie is owned by Charles Boyd, the previous owner of Chester Boyd, a top-end caterers employed for the Queen's Garden parties. The talent behind the design is Noel Pierce of PDI who designed K West and the Peninsula in Hong Kong
The all-day brasserie offers modern British cuisine with dishes such as Chicken liver and foie gras pâté with fig chutney and toasted brioche; Crab and lobster bisque, aioli; Confit leg of duck, cassoulet style; and Breast of free range Sussex chicken with cep risotto and truffled rocket. Desserts include Fine apple tart with vanilla ice cream and caramel sauce; and Gypsy tart crème fraîche with peanut brittle. There is a tapas menu, as well as a bar menu. The pre-theatre menu is £15.50 for two courses and £18.50 for three courses.
The double-height bar space, which is adjacent to the restaurant, was originally occupied by an impressive staircase which was removed in 1914 to become a coffee room linked to the Marble Hall. Today it houses an impressive black granite bar adorned with antique mirrors, which the designer describes as a 'jewel box of a bar".
Boyd's Brasserie & Bar is open seven days a week, from 7am until 1am, with last orders being taken at 10pm.
Boyd's Brasserie & Bar, 8 Northumberland Avenue, London WC2N 5BY