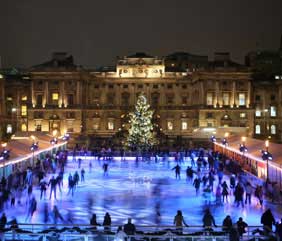 Are you searching for a romantic night for someone special? After dazzingly your date with arabesques, treat them to apple toddies, Rhug Estate beef and shallot pie, and ginger fudge cake at the seasonal Ice Cafe
Set in London's romantic 18th century courtyard at Somerset House, the ice skating rink features a forty-foot Christmas tree decorated by Tiffany & Co., flaming torches, and a food and drink menu created by Tate's Executive Head Chef Sean Davies. Vegetarians can choose from kidney bean and squash chilli con carne or Moroccan vegetable and feta pie. A selection of soups served with rustic bread include leek and potato or tomato and butterbean. Smaller portions of adult sizes are available for children.
The British beer revival is in full swing, and Tate's Sommelier, Hamish Anderson will run real ale from the London brewer, Fullers, along with mulled wines. Hamish has also created a festive menu of soft drinks and smoothies including Belvoir spiced winter berries cordial and Benson's Farm apple and cinnamon juice. Hot drinks available include Jing leaf tea.
To revive tired skaters after a hearty meal, the dessert list will tempt visitors with homemade cakes and biscuits like sticky ginger fudge cake and Mince pies. Diners will be given a wide choice from breakfast right through to late evening when cocktails and warming snacks will be available.