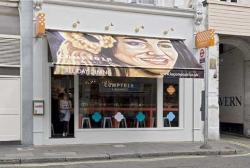 Tony Kitous, founder of Comptoir Libanais, opens the doors of his latest branch in Paddington and finds commuters departing from their usual fast food choices in favour of healthier options, at affordable prices.
A mix of Middle Eastern café, shop and delicatessen, Comptoir Libanais has a touch of the souk about it.
Paddington introduces theMiddle Eastern staple, the classic shawarma which features fresh cuts slowly grilled on a spit so it stays juicy and bursting with flavour.
Only quality ingredients are used including marinated Aberdeen Angus beef and corn fed chicken. These are combined with tomatoes, red onion and parsley or aubergine and lettuce with yoghurt and cucumber, before being wrapped in a soft flatbread.
At just £4.50 per wrap, the shawarma represents excellent value and, as the
Paddington Comptoir Libanais is fully licensed, you can enjoy it with a chilled bottle
of Almaza pilsener, the only beer brewed in The Lebanon. Alternatively, choose from a succinct selection of Lebanese Massaya wines or why not bring your own – no corkage
charges apply