68 Heath Street, Hampstead NW3 1DN dachandsons.com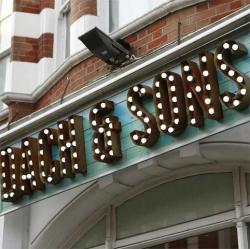 Dach & Sons is something of an anomaly in Hampstead, which is no doubt its intention. Not known for its participation in any type of zeitgeist since the days of Arts and Crafts, the affluent north London'village' of Hampstead has supported a selection of very good pubs, outmoded chains and'neighbourhood' restaurants for decades, with few hints of the fickle food trends jostling for position a few miles away in central London.
To anyone who has eaten out in central or east London in the past few years, Dach & Sons bears a number of wearily familiar hallmarks. There's the American fast food. And oh yes: over there are the metro tiles. There's the neon New York-style signage, overhead are the bare bulbs on long flexes with curly wurly filaments, and here are the uncomfortable chairs salvaged from primary schools.
But there's no need to be cocky here: Dach & Sons is bringing something to Hampstead which Hampstead doesn't have. Judging by how busy the place is on a Wednesday, the timing is right. The venture comes from Fluid Movement, the quartet behind the Victoriana-style speakeasy cocktail bars Purl and the Worship Street Whistling Shop, both very popular among cocktail lovers who like their Martinis dry, with a hint of prohibition. It seems unlikely they're about to hit a bum note.
Booze-wise, the specialities here are whiskey and craft beers. There is Jack Daniel's No. 7, Old grand-dad, Mellow Corn, Four Roses Yellow and Makers Mark. Dach & Sons have their own beer, then there's the trendy Vedett, Dark Star US Pale Ale, Summer Seasonal and Brooklyn. All at £3.20 for 2/3 of a pint. My mint julep, £8, comes in its customary tin cup, and is pleasingly strong with a sweetness to the mint infusion.
Service was friendly but for a few slow moments, and we get a large table for just the two of us. There are 30 covers in all, as well as an outdoor terrace with space for another 40. The trend for rich and unctuous bone marrow has spilled into the popcorn here, which is a very tasty accompaniment to our drinks, and the food, as you'd expect in a quick turnover place such as this, comes swiftly.
A full-time butcher is employed on site and it has been worth the effort. My chilli dog – spiced pig, bbq sauce and compressed chilli tomato, cooked sous vide before a speedy flash fry, is outstanding. The sausage is huge, the bun glazed and slightly sweet. I want another as soon as I am done it is so good, but thankfully realise I am full before ordering more.
The sliders (I'm sure you know, but these are mini burgers) are also excellent and surprisingly filling. One is salt beef chilli and soured cream, one with gruyere and another with bacon and peanut jam.
The fries are more chips in stature but with a satisfying crunch and beef dripping flavour. The frickles, fried pickles, sadly a touch soggy. There are no desserts advertised, but we asked and were presented with a baked New York cheesecake and a generous kilner of orange ice cream.
The mains are £8 or £9 and sides £3 or £2.50 when ordered with a main. This isn't bad value when you consider the quality of the food, but as ever with upmarket fast food if you have a few drinks you might feel a bit ripped off at shelling out £25 for a quick burger meal, but it is likely the Hampstead pocket is somewhat less constricted than most.
We retire upstairs through the'secret' (just ask for it) door to Purl. There are plush velvet banquettes, dimmed lighting, a preppily-dressed American talking about Hemingway to the bar man and – and this bit will forever baffle me – a magnifying glass atop each paper menu, to read it with. I am slightly short-sighted, a disability I correct with contact lenses, but not particularly old or averse to innovation. But why not print the menu in type big enough to read?
The menu, when I strain my eyes, seems to offer all manner of truly amazing sounding drinks. It is printed on faux gnarled and tea-stained paper, in teeny-tiny illegible writing which the glass does nothing to illuminate. The conceit of a speakeasy reached through an unmarked door I get, even if I find it somewhat unnecessary when you're going to shout about said door on Twitter, but a menu designed to conceal its delicious booze, fruits, herbs and bitters-laden treasures confounds me.
I finish my mint julep, too tired to jump through the hoops required to get my claws around something more exotic, and leave happy and very full. Later I dream of that chilli dog.
Dach & Sons, 68 Heath Street, Hampstead NW3 1DN, 020 7433 8139, no reservations