If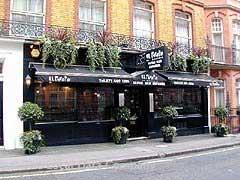 I'm being perfectly honest, I have not been to El Pirata since 1996 when I used to work around the corner as a switchboard operator. It was the venue where our staff nights out would be held and looking back, they were actually incredibly fun nights. We would get utterly hammered, eat plate after plate of Tapas and then tuck in to huge pans of Paella, staggering out around midnight and head to some late night not-so-hot-spot and continue the party. I guess I put El Pirata to the back of my mind along with all those memories of my late teens.
Over 14 years later and shockingly little has changed at El Pirata. In fact nothing has changed here apart from the fact that chain-smoking inside the restaurant is no longer a viable which, now I'm virtually smoke free, is not such a bad thing. The décor is still exactly the same, white (ish) walls with dark wood beams and terracotta tile floors; very simple and really on-the-money in the authenticity sweepstakes. Our host is a portrait of the stereotypical Spanish waiter with thick Spanish accent, almost jolly in his enthusiasm but very nice and hospitable.
We are served a platter of delicately sliced Pata Negra ham, the most expensive ham in the world delivering a delicious nutty flavour courtesy of the acorns the pigs are fed on. I am quite happy to make this my entire meal but cannot resist the selection of Spanish cheeses, Padron peppers, tender deep-fried medallions of monkfish and the popular 'Gambas a la plancha' – prawns dropped into boiling hot oil with garlic and a fiery kick of chillies. A wonderful selection of delicious and varied dishes that were fresh and flavoursome and very enjoyable.
Our main course had to be the Paella Marinara; it's vibrant gold hue reminiscent of the warm early evening sunshine of Spain in summer. The huge cast iron Paella pan is served straight to the table and is studded with giant prawns, tender squid perfectly cooked mussels and clams. I love sunshine cooking and anything that comes from the Mediterranean but Paella is one of my favourites as long as there is tender meat and (or) seafood, perfectly cooked rice, soft and moist on the bottom of the pan and slightly crunchier on the top and plenty of saffron, onions and juice that bring the whole thing together. I am not disappointed as literally finished the whole dish within 15 minutes of it being served.
Dessert was a slightly different affair with the Crema Catalana not delivering the required pizzazz that the other dishes managed to, which was a little disappointing. Luckily I am not, nor have I ever been someone that lives and dies for sweet things. The savoury part of the meal is the most important thing for me and desserts, as on this occasion, can only pale in comparison.
Dinner at El Pirata proved to be a great evening out in the end. I did panic at first when I walked in and it appeared that nothing had changed in 14 years, but perhaps this is exactly why they are still open, doing great trade and serving locals as they were years ago. Sometimes change isn't such a good thing, as the old adage goes 'If it ain't broke, don't fix it" and El Pirata most definitely ain't broke.