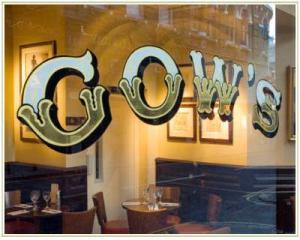 A journey to Liverpool Street Station does not faze me, in fact I rather welcome the prospect. Partially because the urban slalom course of frantic commuters is good practice for my ninja-like reactions, but also, and arguably the more influential factor, is that normally a trip to Liverpool Street Station results in a visit to Gow's Restaurant & Oyster Bar.
My first call at Gow's was a few weeks back for a few bar snacks. Expecting nothing more than a cup of coffee and a packet or two of crisps and nuts, I was more than impressed with the plates of soft quail eggs, crumbly pork pies and heavily filled sandwich platters that arrived in minutes, leaving me with the notion that this place would swiftly become a favourite. I returned not long after with a friend and shared a good value fish platter.
With the standard of food and drink in the upstairs Oyster Bar having made a stark impact, I was eager to check out the downstairs restaurant. My London newcomer status had already resulted in suggestions that I should sample 'some of the best fish in London' in Gow's downstairs restaurant, and if truth be told the recommendations were completely justified.
Settling at our table, I realized I was in for a good meal by the sheer excitement on K's face. A frequent visitor to Gow's, K took on an ambassador role for the establishment, explaining about the venue and assuring me that the forthcoming meal would rival anywhere I had previously eaten. Taking a moment to pause from salivating, K sampled the house crisp South African origin Sauvignon Blanc, kindly recommended by one of the friendly staff. If the food was going to match the level of the wine, we were on to a winner.
As an alternative to the traditional chocolate treats, Gow's was offering its very own take on an Easter Egg in the form of a soft boiled duck egg, served with salmon & zevruga caviar and bread soldiers. The salty caviar and rich duck egg yolk combination negated the need for buttering the bread soldiers, stacked in a tame Jenga-style formation. Regressing back to my childhood, I slowly disposed of my starter in a some-what hypnotic trance, not even noticing that K had finished their mussel, leek & cockle crumble and was waiting for his rotund co-diner to finish.
On to the main course and my chance to sample the highly recommended fish. From a good menu I chose the fillet of Red Snapper and Langoustine Thermidor. The langoustine was moist and the taste was not lost in the slightly crunchy dressing or the scrumptious sauce as is sometimes the case. Underneath there was plenty of meaty red snapper that was seasoned and seared simply and tasted great. Definitely is a dish I would order again and will struggle not to instead of sampling the other fish delights.
Time for dessert, and K was beaten at this point, serves him right for choosing the lightly battered cod, mushy peas and chips. On the other hand, my light main course had left enough room to opt for a fine crème brulee. A quick coffee completed the meal, leaving us both very satisfied and happy.
The quality of the food, despite being excellent, is not my favourite part of the restaurant. The ambience and the attentive staff caught my eye. The room had a welcoming and amiable feel. Tables were not too close that you could overhear your neighbours' conversations, but not too distant that you felt omitted. Staff were attentive, recognising faces and remembering names, but not intruding. Gow's wows, and since my visit I find myself now recommending people pay a visit and sample 'some of the best fish in London'. Does this mean I'm now a 'Londoner'?