65 South Audley Street, London, W1K 2QU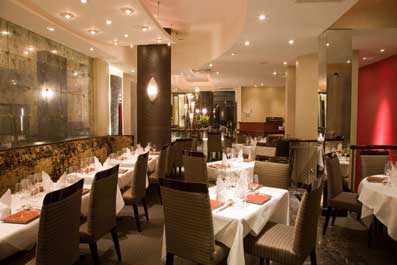 Between a Chinese restaurant like Gourmet San – cheap and authentic – and Kai – far from cheap and a fascinating fusion of east and west – lies a sad sea of sweet and sour. So those looking for Chinese fine dining should walk on water to Kai's discreet door in Mayfair. Indeed a certain restaurant guide has voted Kai Best Chinese Restaurant in London, in its 2009 Restaurant Guide.
The best does not come cheap, although you'd be mad to think a Mayfair restaurant ever would. This area isn't regarded as the best bit of the Monopoly board for nothing. Here the customers cross all continents and cultures and dress in different ways, but the money always shows through like VPL Yet what is so pleasantly surprising, apart from the food, is the warm welcome and lack of attitude the staff show.
We sat back and let the dishes roll out, each timed exactly by Chef Alex Chow who has over the last six years honed his kitchen to perfection. Butterhead lettuce leaves, 'Imperial Gems', were brimmed with cooked chicken and once drizzled with chilli sauce popped into the mouth in one delicious bite. The famous Wasabi Prawns were as good as the last time I ate them almost two years ago, the wasabi's fire cut by being infused in mayonnaise the prawns orbited by little cubes of sweet mango and dots of basil seed. Soft-Shelled Crab with Julienne Green Mango was fried with a crispy coating of spiced batter, garlic, chili, shallots and peppercorns and the contrast between the batter and the yielding flesh inside was excellent although personally a little more chili wouldn't have gone amiss.
Sirloin Beef, like the Wasabi prawns, is one of Kai's signature dishes. The Baccleuch beef is perfectly cooked little cubes of marbled meat sparked with black pepper, garlic flakes and with an extra touch of sliced Chinese croissant. A very superior dish indeed. Vegetarians who can't enjoy this dish are still well catered for at Kai with Homemade tofu with Tan Jia. I was eyeing up this dish while I was eating another and had convinced myself that it was fish fillets, seared skin side up, so it was a surprise to bite into the strange yet lovely softness that is great tofu.
And we had the Chilean Sea bass Fillet with Chopped Snow Leaf topped with Shrimp Crumble. It had come halfway around the world to land on our table, but Kai believe it's the only sea bass that matches that found around China. I can't comment on that, but the Air Miles it had clocked up seemed worth it – a delicate succulent, dish that floated off the plate.
With it all we had ginger infused rice that showed that even something as ostensibly simple as rice can be raised to a new level by a good chef. We finished off with a Pumpkin Cream with Purple rice, a dish that typically showed Kai's style of blending Haute Cuisine from France with tradition from the East to stunning effect.
Kai really is the business when it comes to fine-dining, a unique experience and well worth the money. And right now the current set lunches offer a great deal for a good price