10 Devonshire Square, London, EC2M 4YP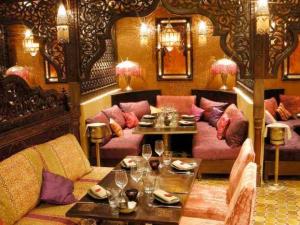 After going round in circles I confess I am totally lost. My utterly useless iPhone sat-nav is doing little other then making sure I have walked in one big circle. Twice. I do what no woman ever wants to do, call for help. But having given a winning performance as a damsel-in-distress, the man with the sexy French accent directs me to Kenza, staying with me on the phone until I see the restaurant. Bonus points for this my friend, the City is already a maze of passages and alley ways and on a dark winter night, help is always appreciated. Admittedly finding Kenza can be a bit of a 'needle-in-a-haystack' affair, reminiscent of trekking through the Souk markets of Morocco, but I like a challenge.
Tall, exotic lamps stand like guards outside the heavy fortress-style wooden door. The interior reminds me of a cave, albeit a stylish cave with a descending staircase lit with warm candlelight. A warm greeting awaits me as I apologise to my dining companion for my lateness. The enormous room is separated by ornate carved wooden screens; each space is a bursting with vibrant colours. The first area is dotted with the traditional low-level brass-top tables and cushioned banquette seating, well-suited to a more informal style of Mezze dining with tea or cocktails. We are shown to a comfortably plush nook in the main dining room and we waste little time before combing through the menu.
With my annoying self-imposed wheat ban, I wonder if I may have made things a little hard for myself, choice-wise. We begin the classic aubergine and tahini dip of Baba Ghannouj, which has a subtle smoky depth and a spike of lemon that balances the richness. 'Makale Samak' is next on our hit list, spicy sautéed squid served with a very moreish coconut and chill sauce followed by spicy 'Soujoc' lamb sausages, which are a Lebanese specialty. I like food that packs a punch flavour and Middle Eastern food rarely disappoints.
The main course arrives and I try to tell myself that I'm not yet full, when secretly I am stuffed. But I have never let a silly thing like 'appetite' get in the way of a full-on feast and I'm certainly not about to start now. We opt for a modern Moroccan-inspired dish of pan-fried salmon fillet with a pomegranate glaze and a salad of cucumber and courgette, as well as the classic 'Meshawy' mixed grill platter of chunks of tender marinated chicken and lamb and a wonderfully spicy minced lamb kebab with a trace of cinnamon and a slight chilli kick, served with basmati rice, strewn with vermicelli strands. Simply delightful, but really doing nothing to ease my expanding waistband. But that's what I like about Middle-Eastern food, you can eat and eat (and eat) until you can't breathe any longer and then you follow it all with a mint tea chaser and suddenly you find room for dessert. What kind of bizarre trickery is this? I shall never understand.
An ornate 3-tiered selection of treats is served to us, offering everything from fresh fruit and Turkish delights to the naughtier and sinfully sticky delights of Baklava, all designed to be enjoyed with your tea. I couldn't resist the temptation of rose water ice cream and every lick of my spoon left a sweet and floral perfume on my palate. My companion opted for a glass of Lebanese dessert wine, Chateau Kefraya. Now I'm not a wine drinker, but dessert wine is a whole different affair for me and this syrupy, honeyed nectar is a lovely finish to a great meal.
Kenza offers something that little bit different, which is just you need sometimes. The restaurant itself has an air of Souk-like fantasy which makes it a great place to escape the world, knock back a few Mezza washed down with some cocktails. I can see why it appeals to the City crowd so much, with very few exciting restaurants in area, Kenza stands out and perhaps deservedly so. The interior design alone is well worth a visit. Well… it's cheaper than a flight to Morocco, surely?