Nick finds you don't have to ascend to the heavens for a decent meal. At the bottom of the Walkie Talkie there's now a new restaurant that is both grounded and good.

On the top of 20 Fenchurch St, as the Walkie Talkie is officially known, sits Sky Garden with restaurants offering fabulous views and elevated prices. Enter the building via the Gift Shop down below though, make the modest climb to the first floor, and you'll now find the recently-opened Larch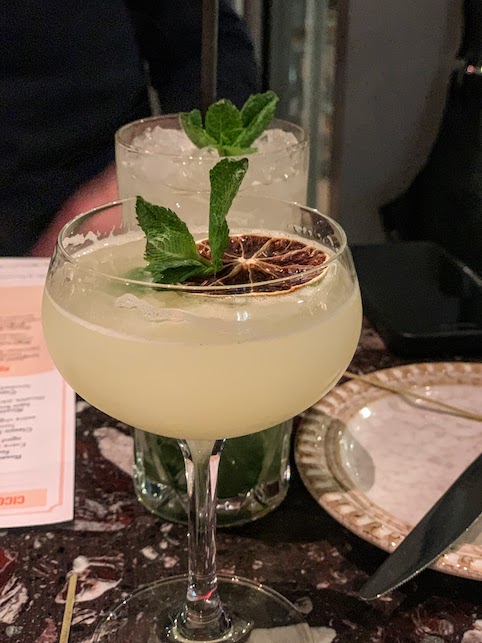 It's a modern trattoria, it smells authentic (in a good way) and the decor is light and welcoming. There's a cute terrace as well, which is going to be a great place to eat come the sunnier weather. Tonight cats and dogs are landing heavily outside, so we get a table inside and cocktails to warm up.

As I say, I like the decor. The materials and furniture have apparently been sustainably sourced and there's an oak honeycomb tile bar, resembling a beehive, and the plaster walls have real pressed flowers. The nature- focussed wall murals were commissioned from University of the Arts London students.

Larch is part of the Sky Garden gift shop, and it does have a slight feel of a restaurant attached to an attraction, but that is where the similarity ends. Those kinds of places are usually serving less than enjoyable food, knowing you have little choice.

The Larch menu is about as compact as can be so we don't take long to make our choices which gives us time to deal with cocktails. My Favola – Malfy Limone Gin, Italicus Liqueur, Limoncello is, as you might expect, sharp and astringent and a good way to kick my taste buds alert. J's Mozzafiato – Chivas Regal 12yo Whiskey, Antica Formula, Belsazar Bianco Vermouth he finds warming and rather strong.

A very generous bowl of jolly green Nocellara olives keeps us busy until our two Primi fetch up. Truffle arancini with Winter truffle, Parmigiano Reggiano, arborio rice (of course), and a dish of Fried calamari with garlic mayonnaise.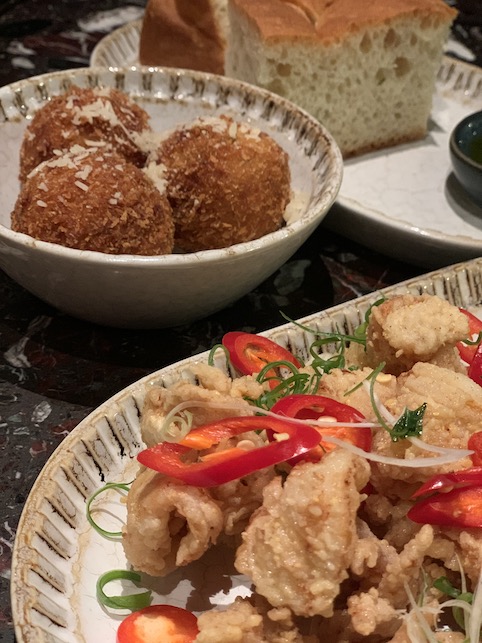 We share both. The squid is excellent, no nasty greasy rings, but proper recognisable squid components, including the tentacles, all in a light and crispy batter. Slices of raw very hot chilli are dotted about, which rather moves it to Vietnamese squid territory, but we're not complaining. The mayo is naughty but nice. I eat too much of it, I am not sorry.

Hard to go wrong with arancini, as long as they're deep fried in good oil for the right amount of time, and these have been. A good crunch to them, the oil has been well blotted away before serving and the hint of truffle is just enough. They come as three, so to avoid a fight we halve the last one like civilised people.

Moving on from cocktails to a drop of red, we have Primitivo Salento, a good glugging wine at a reasonable £25 for the bottle, and some cheerful 'bants' with the table next door, it's that kind of friendly place.

Of the three pasta dishes, I go for Ragú with mafaldine pasta because I'm feeling a bit nostalgic and I do like mafaldine, a ribbon pasta which, with its cute curly edges, is perfect for picking up a heavy sauce. The sauce is rather tomato weighted, a bit more meat would not have gone amiss, but it's a good and robust helping and at £15 it's a bargain. I have to say it was rather oversalted though, an issue which also surfaced in J's dish of fish.

Branzino – Seared sea bass, rocket, cannellini beans with tomato, and shaved fennel is on his plate. Branzino is not quite seabass, being smaller, but it is successfully farmed and is sustainable. It has a fine flaky meat, slightly sweet, and its skin here has been seared properly. The beans absorb the general juices as well as the fennel flavours well, and he mops it all up with a pile truffle chips that I steal as they're so good.

We cheekily asked for a mini-pizza to sample, in the interests of professionalism of course, and it was a good effort. I'd definitely give a full size one a try.

Just one dessert to share; Panna Cotta with blackberry, vanilla and mint. Good and wobbly, which is how I like them, and the blackberry seedless and sweet. I'm not a dessert person really, having no sweet teeth. We drain our wine, have a chat with the staff and head back out into the night

Larch is a restaurant that doesn't try to be a destination kind of place. It offers honest, well cooked, food at a decent price for hungry people and we really like it. Staff are genuine and friendly, the service is smart and not overbearing, and there's a real sense that the restaurant is already relaxed into a well (olive) oiled machine. Come summer and you may have to fight for a table, especially on that balcony.

Larch is open Tuesday to Friday 12pm – 9:30pm
Sky Garden
1 Sky Garden Walk
London
EC3M 8AF