14 – 15 Beauchamp Place Knightsbridge London SW3 1NQ www.nozomi.co.uk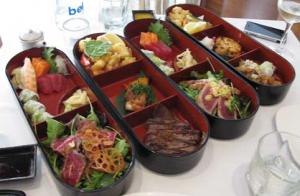 Japanese restaurants are never cheap. That's because fine fresh fish to be served raw is punishingly expensive to buy and there's less of it available every day. So a trip out to eat Japanese is one to be budgeted for, especially when the restaurant in question is located in Knightsbridge, an area not known for bargains.
Nozomi however is battling to bring down costs by offering special Bento box deals at lunchtime as a way of luring in locals. Bento boxes, for those without Tom Cruise's knowledge of Japan as evidenced in The Last Samurai, are boxes of rice, fish or meat, and one or more pickled or cooked vegetables. They were originally designed as take out meals or lunch packs prepared at home for people to carry to work or school. In the UK we call them Tupperware Boxes.
They can be simple or elaborate, cheap or expensive but the basics remain the same. Nozomi's Bentos come in beautiful lacquered boxes and at three price points, reflecting the quality/rarity of the contents.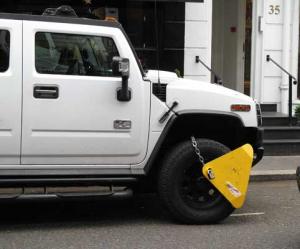 Outside Nozomi a zealous clamper had attached a 'boot' to a Humvee, such a surreal site we had to photograph it. Inside it's a bit quiet to say the least, you could hear a chopstick drop. Obviously Nozomi gets buzi at night when the rich celebs come out to play and party in the bar and in the skylit restaurant behind. This is the first week of Nozomi opening for lunch and word has clearly not yet got around as it's emptier than Channel 4's ideas box now Big Brother has ended, so we park ourselves in the window where we can at least watch the world go by.
We go for the higher priced bentos, the first the classic at £26 has rock shrimp tempura and akami tataki as well as the luxury box at £48 with lobster, sushi, sashimi, king crab and wagyu beef amongst others. We share and while at first it looks as if we are going to leave hungry, the food soon starts to fill us up despite the apparent lightness.
Too much variety to go into detail but nothing is bad and most is very good indeed, demonstrating some high skills in the kitchen. The Black Cod is particularly fine as are the sushis and sashimis.
Obviously the Bento Box at Nozomi isn't going to replace a sarny from Pret any day soon, it is a bit too expensive for that. It is however a relatively affordable way to have a classy lunch that won't leave you feeling bloated and gives a genuine taster of what hi end Japanese food is like. You can still go get your sushi from a supermarket, but you won't ever confuse it with the real thing once you've tried a Nozomi Bento box.