5 Royal Well Place, Cheltenham,United Kingdom, GL50 3DN thetaverncheltenham.com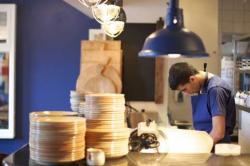 Breastfeeding, so I'm told, requires a certain degree of organisational genius, particularly for a foodie. My good friend, S, has spent the past year with wine glass poised, ready to be downed, digested and out of her system just after one feed thus returning her to a position of virtuous abstinence in time for the next.
 So it was a cause for some celebration when she announced that her blissfully unaware one year old had enjoyed his last fine dining experience a la mummy, and thus she was free for a proper evening out; ideally one in which we would eat and drink ourselves silly in a spirit of decadence and plenty. Never one to shrink from a challenge I wanted to book something that would satisfy the above criteria, and since I'm a sucker for wooden tables, chunky candles and a buzzy atmosphere, I decided that the Tavern in Cheltenham might well be worth a try.
Apparently though, lots of people love chunky candles almost as much as I do, since the only table left on the drizzly Friday evening in question  was the intimidatingly named'Chef's table.'  And despite my visions of some blood stained slab with a hilariously ironic cartoon chef dicing carrots in a picture above it, we took it.
The good news then, is that the Tavern is miraculously free of cartoon chefs. Instead, it has a bevy of friendly, burly and rather dashing gentlemen, who whizz around the open plan kitchen with a general air of passion and competence like sexy, chefly bumblebees.
The chef's table is so named because rather than being a traditional piece of food supporting furniture (and let's face it, four legs  and a flat surface are so passé)  instead it forms part of the old bar. You sit, looking not towards dirty beermats and a half empty bottle of Pernod but instead into the gleaming, sizzling kitchen itself.
As we perched ourselves onto our seats, there was a real sense of being beyond the curtain, in the best possible way.  The Great and Powerful Oz could do an awful lot worse than a kitchen like this, and the entire restaurant is a quirky mixture of terribly English gastropub, American diner and country house billiards room. It's eclectic, but it works.
Similarly, the menu takes up a general spirit of egalitarianism. Main courses range from cheap, cheerful and delicious macaroni cheese right up to veal and chateaubriand, so you can indulge in a veritable orgiastic spell of feasting or go for something a little more restrained, depending on your budget.
The smart money though, is best spent on the chef's table. Rather than ordering starter, main course and pudding off the main menu, instead the chefs themselves will take your order and cook you delicious morsel after delicious morsel. You can point to anything that takes your fancy ('I want that one' little Britain style), or even place yourself entirely in the capable hands of the professionals. The only limit is your appetite and restaurant closing times.
And I can personally testify to the fact that it's a bit of a thrill really, particularly when the cooking is of the quality the Tavern pulls off.  We opened with crunchy deep fried olives, accompanied by an olive oil dressing as intense and grassy as a summer's day. 
Next came a sooty puddle of squid ink risotto with scallops perched on top like succulent jewels and then a whistle stop tour through Thai mussels and crab a la Grecque, as we greedily mopped up the juices with vast quantities of fresh bread.
The Tavern does down and dirty food as well as it manages the highbrow though, and our next gastronomic pit stop was its'sliders':  three diminutive burgers of beef, pulled pork and tuna steak, three entirely different textures and tastes, three blissfully contrasting mouthfuls.
I'll be honest, washing down each of these mini courses with some very passable house wine, the order of things starts to blur a little after this point. There was some perfectly textured squid with crunchy, soy flavoured slaw and I'm pretty sure I remember dense and comforting chick pea fritter and a melt in the middle Scotch egg. Things slide sharply back into focus though, when it comes to dessert, a three part tasting plate, crowned by a pudding of primordial chocolate ooze.
If you're getting the impression that I was a little bit enthusiastic about this experience then you'd be right. If you fantasised about unrestricted access to sweetshops as a child, then you'll probably enjoy it too. And all for the princely sum of £20 per head.
Just make sure you choose the right companion, because this is very much an experience that requires an accomplice. Altogether now, "There's no place like the Tavern…"