166-170 Shaftesbury Avenue, City of London WC2H 8JB. thaisquare.net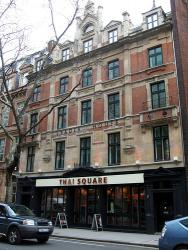 Thai Square in Covent Garden makes a big deal of its proximity to the West End, doing its utmost to market itself as an ideal place to eat before rushing off for the wholesome joys/blood-curdling horrors (delete as appropriate) of a major West End musical. It really needn't though.
For one, you get the impression, as you are attended to by a sheepishly smiling waitress, that Thai Square has invested easily as much on set design as 'Chitty Chitty Bang Bang' or 'Wicked'. As you would expect of a Thai restaurant, the place is decked out with all the obligatory Buddha statues, Orchids and bamboo canes you could ask for. However, unlike any other Thai restaurant I've set foot in, it somehow manages to avoid feeling kitsch, the interior remaining miraculously more tasteful than the sum of its parts.
They're also much better actors in Thai Square: When I arrived, despite having spent the day traipsing around central London – and thus probably smelling like something dredged up from the bottom of a canal – I was greeted with a smile and treated, not only like an actual human being, but impeccably.
This particularly impressive as I'm sure they were tempted, upon seeing my bedraggled form approaching their door, to pretend they were closed -I'd defy Jim Carey to manage such a feat.
In addition to the unexpectedly elegant interior and excellent service, the food is superb. Having foolishly trusted my directions, my companions for the night arrive half an hour late – time I have used to munch my way through around half a kilo of prawn crackers, which are more edible than most. Anxious to make up for lost time, we order a round of Chang – 'the only Thai beer': flavourless but all too drinkable – and get round to ordering.
Me and M opt for the 'Set Silver Menu' which includes a plate of mixed starters (pictured), a main, a side-dish and desert, with me choosing the Panang Beef and M, the whisky soaked 'Drunken Duck'. L, straying from the security of the set menu, decides to start with the prawn tempura and chooses the Thai Green Curry with a side of coconut rice for her main.
We sit back and, in what seems like no time at all, are presented with our starters. Me an M's starter plate consists of prawn tempura, chicken satay, Thai dim sum (far superior to its Chinese cousin) Duck Spring Rolls and Thai fish cakes and, in addition to being very tasty, is absolutely huge.
Five minutes after we are done with our starters, our mains arrive. L sets about dutifully describing her Thai green curry, which, despite being slight to spicy for her (sorry L) is deemed to be excellent, the aubergines complimenting the beef nicely.
Though he raves about it, M's Drunken Duck has a gelatinous quality to it and is slightly too sweet for my liking. I thus feel vindicated in my choice of the Panang Beef, which is in creamy red sauce and has a far subtler, less insipid, sweetness to it. Our side of Pad Thai chicken is large enough to be a main in its own right and, despite not being the kind of thing I would order, is also very good.
As with our starters, we find ourselves with rather more food than we can deal with, and in the end have to join forces to finish off the Pad Thai. For desert, me and M have the mango and raspberry sorbets respectively. L's desert, a lemon sorbet presented in the kind of shape which makes you glad you're not having dinner with Sigmund Freud, arrives a couple of minutes later.
After an eating experience that has lasted almost three hours, we finally make a move. As we saunter contentedly towards the exit, members of staff make a point of stopping what they are doing and bowing to us – making me feel more like a returning war hero than a greedy patron.
As much as a meal at Thai Square is the ideal springboard for a night out in the West End, it shouldn't be treated as such. Instead, save yourself from some of the area's more overpriced attractions and make Thai Square your only port of call.