The Bayou Soul, 20 Inverness Street, London, NW1 7HJ  thebayoucamden.com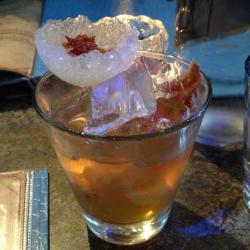 Aside from trying an adventurous dish of spiced frog legs in a Shoreditch car park, my experience of creole food doesn't extend much further than a boil in the bag chicken breast laced with paprika, probably from a Wetherspoons.
I really shouldn't admit these things, instead do a quick Wikipedia search and copy and paste some choice quotes about a cuisine which 'is closely identified today with the culture of New Orleans'. Metro style. At least then I could pretend to speak with some authority on the dishes I tried at The Bayou Soul.
But why the need to lie? I have a tongue and I have a laptop, what greater qualifications do I need to write on food?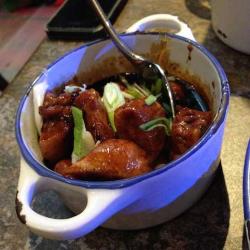 The Bayou Soul is one of 15 bars, restaurants and scantily stocked corner shops squeezed in a tight row along Inverness Street.
With such choice, there are some good drinks deals to be had of a weekday evening. For £20 two of you can sit and watch the market traders slave over a hot stall, drinking your own body weight in rum and fruit juice.
Cocktails at Bayou were of the more complex and refined variety. A bacon and maple syrup Old Fashioned was everything I'd expected and more – sweet, salty, smoky and sour; a well-balanced drink with a small ice-bowl of bacon pieces balanced on top. Both amusing and something to nibble on while you wait for your food.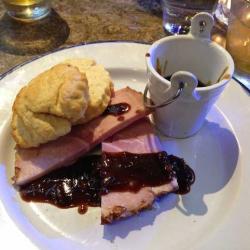 The menu at Bayou is fairly broad. Gumbo, jambalaya, chicken, steaks, burgers, and a whole range of smoked dishes and New Orlean's cooking. They could probably cut out the steaks and burgers. Like Burger and Lobster, anyone who goes for the burger here is not your friend. I stuck to page one: starters and the home cooking.
This was a tale of two dinners. One, an under-salted jambalaya followed by crab cakes that seemed to lack the flavour of that key ingredient. The other a melt-in-the-mouth smoked ham with a sweet and sticky sausage gravy, followed by a sharp, tangy bourbon chicken with hush puppies. Luckily for me, mine was the latter choice, so I left with a smile on my face; my date left with a rating of'meh' for hers.
With both of my dishes, the meat and sauce were the stars. The various carbs – biscuits (basically scones) and the fried cornmeal of the hush puppies – were there to add some necessary dilution. And necessary it was. While both sauces were immensely tasty, they were also immensely powerful. The sausage gravy was salty, the sauce on the chicken likewise, almost soy sauce like in it's flavour. Here's where some knowledge comes in handy; the BBC inform me that bourbon chicken is in fact the creation of a Chinese cook. God bless the internet.
To finish, pumpkin pie – yet another dish I'm ignorant of, even though former colleagues of an American persuasion have promised to cook me one for years. This pie carries a not unpleasant musty flavour and is definitely in need of the accompanying cream to provide some air to its thick consistency – a filling so dense I struggled with even a small slice. The thick crust was left for the bin. Although I do love a squash, I'm not sure I'll order pumpkin pie again.
Would I visit The Bayou Soul again though? It's a great restaurant for those living in Camden. A place you'd visit frequently if you lived around the corner – given the length of the menu you wouldn't need to eat the same dish twice – but probably not one you'd bus or tube to without a burning passion for creole cuisine. A do visit, not a must visit.
So, if you're on the way to the zoo, do visit.