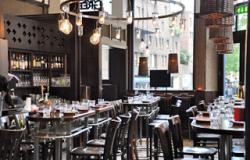 'Oh you don't want to go there, it's not really Greek you know!' It's always nice to get dining advice from experts, qualified to pontificate by dint of having spent two weeks lounging on a beach in Corfu last summer.
It's even worse with the Far East; six months backpacking around Thailand clutching a bottle of Evian and growing dreadlocks seems to turn normal people into food nazis, dismissive of any attempt to recreate the same food in London.
Now it is of course true that you're never going to get the same taste experience when out of the home country. Quite apart from the airmiles some of the ingredients have to travel, there's the fact that food always seems to taste different according to your surroundings. A grilled sardine in Streatham doesn't taste as good as it does on a harbour in Portugal. The Portugese say the same is true of a Big Mac.
So The Real Greek in Covent Garden, London, just how real is it? Do I care? I'm eating lunch not writing a thesis for a sociology degree. What's on the plate is what counts and despite dire warnings, I found the Real Greek really not bad at all.
This branch is in the Kemble Head, a pub I drank in last century. Where they put the old open fireplace is a mystery, but although a bit cramped the place is nicely laid out with high tables and high chairs and food that arrives on high tiered stands to maximise space available.
'Greek food' is a bit of a catch all term anyway and can often stray over national borders into Middle Eastern, as it's reliant on small dishes, grilled meats and bread wraps. In some ways it's a staging post on a taste journey to more celebrated cuisines such as Persian or Lebanese, a path lubricated by taramasalata and hummus.
Greek Flatbread with Olive Oil and Dukkahl, a mix of spices and nuts lightly toasted to release the oils, is enjoyable enough. The bread is light and fluffy and scorched just right and when dunked in the olive oil and then the nuts, kept us busy as we tried to choose from quite a large menu. Each dish is annotated with its calorie count, which is I suppose useful but occasionally a bit worrying.
The management reckons three or four cold dishes, and the same hot, is enough for two and, with bread, that seems about right. We chose some crispy fresh crudités to scoop up a good hummus well reinforced by the necessary tahini, which was creamy and light and gently spiced with a breath of cumin. Very different to shop- bought hummus which is often mostly crushed chickpeas and little else.
A dip of feta coarsely chopped with roasted red peppers and red onion was also good, the feta crumbly, and not the smooth anodynity that supermarkets sell. The sweetness of the peppers and the mild onion were taut against the salty feta. Gigandes Plaki, giant beans, slow-cooked in a tomato sauce was better than expected, the beans mealy but rather soothing and the tomato sauce made from fresh (or at least hydroponic Dutch) tomatoes quite herby and very scoopable with bread.
Hot dishes did all right too, although Tiger Prawns with Garlic and Chilli weren't so interesting, but then I find prawns rarely are, unless grilled in their shells over charcoal. British lamb patties grilled and served with a tahini sauce were better; they had pink in them which is always crucial, although a bit more exterior charring would have been nice.
Grilled Haloumi I always like; okay it's not rocket science to cook but then you can say the same about burgers, but you can still burger them up if not careful. The overt saltiness of haloumi always presses my taste buttons, but you have to eat it hot or it reverts back to bland.
Its good food to share and talk over, it's easy on the eye and while some people find the portions too small, I was stuffed. Maybe I shouldn't have had the Baklava but have always liked this tooth-achingly sweet dessert of honey and nuts.
With a kids' menu, ready- made meal ideas, calorie info and souvlaki wraps too, the Real Greek covers all bases. It's not fine dining and I'd hesitate to recommend it for important anniversaries or first dates, but its collation of shareable dishes in a clean, bright environment is perfect for quick lunches or pre-cinema meet ups with friends. And the beer is Pilsner Urquell, which may not be very Greek but which is nonetheless a very good beer.
If you want authentic, maybe take your own plates to smash when you go. If you want a quick meal that makes a change from the usual, or doesn't involve queuing up to see if the restaurant thinks you're cool enough for them to take your money, then try going Greek in Covent Garden.
.