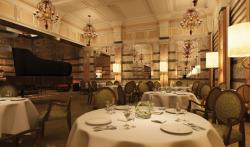 Boyd's Restaurant & Bar has launched a new menu for 2011 and the emphasis is very much on traditional British cuisine.
Located just of Trafalgar Square in what was once a 500-room 'grand hotel', the elegant and classical dining space, opened its doors to the public last year after a substantial redesign by Noel Pierce of PDI whose previous work included K West and the Peninsula in Hong Kong.
The new menu carefully crafted by Head Chef, Richard Hawthorne, will focus on British classics but with the chefs own modern take. Some of the highlights include leek, potato and truffle soup with cheese straws, warm duck sausage roll and homemade pickles and London rich sausage with mash potato and shallot gravy.
There will also new section called 'Boyd's Bowl Food'. Starting from just £3.90 for an individual portion, the pick of these is the red snapper 'fish and chips' and a venison shepherd's pie.
Desserts given British-inspired makeover include such classics as chocolate brownie with cherry ripple ice cream and apple and blackberry crumble served with vanilla ice cream.
Boyd's Restaurant & Bar is open six days a week, from 7am until 1am, with last orders are at 10pm.
Boyd's Restaurant & Bar, 8 Northumberland Avenue, London WC2N 5BY T: 020 7808 3344 or www.boydsbrasserie.co.uk