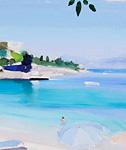 Most weeks, here in Britain's temperate climate, I spend at least some time wishing that I was in Greece.
Savouring the radiance of the sun, the cool of the emerald sea, renting a little motor boat to hunt out a village where I can tie up next to a taverna and order plate-loads of sharing food and some locally made wine.
But the reality of a cold, wet, dispiriting July evening in London had me looking to recreate at least part of my dream by calling in for dinner at the Real Greek restaurant in London's buzzing Marylebone.
Informal and welcoming, the Real Greek prides itself on being a place for friends (παρεα or parea) to share; and if the menu seems a little confusing at first, it becomes  easy and fun to navigate after a glass of wine and a'you pick one, I pick one' approach.
Being hungry and a traditionalist at heart, I ordered a stack of various mezes, starting with the cold plates.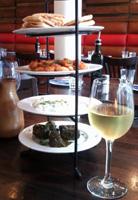 Tzatziki, the staple yoghurt, cucumber and garlic mix (I can never do without it),Gigandes Plaki, giant beans in rich tomato sauce (usually tastier than they sound) and Dolmades, the ubiquitous rice wrapped in pine leaves (here very pine-nutty),
These were followed by some hot dishes that included Grilled octopus, Skewered Lamb (in dry herbs), Loukaniko Country Sausage (fennel and oregano), Grilled Aubergine with Garlic Tomato Sauce.
All these are served in a vertical tiered stand that, apart from saving a lot of space on the table, make it easy to pass the selection around for sharing
The dishes were tasty and well defined from each other in terms of textures, herbs and spices and yes, they were pretty much like I'd expect to find them in most decent tavernas in Greece.
There are treats in store in the drinks department with some delicious Greek wines. The'Ymnos' white from Crete is so perfectly suited to the food; very dry and pungent in a'country' way, with intense flavours of straw and honey with a slight'fino sherry'oxidation. The'Ymnos' red is just as good and is great for the meat dishes.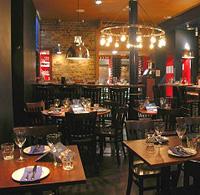 The Real Greek is unashamedly a restaurant for easy, fun eating; it is not trying to be a venue for the ultimate in Hellenic fine dining. Apart from the wide range of hot and cold mezes, the menu stongly features Souvlaki (various grilled meats in a wrap) but you'll look in vain for classic Greek dishes like a rich onion-laden Stifado stew or a Corfiot Sofrito of veal in wine and garlic.
I rounded off the meal with a dessert that really did bring the hillside flavours of Greece; fresh orange segments with honey, pistachios and mint. This was accompanied by an unmissable glass of'Mavrodaphne of Patras', a super-deep, sweet red wine with a long , rolling , dusty sweetness of peeled plum and raisin.
O.K. I didn't find the sun , the sea, or a little motor boat for that matter but I did find a menu reassuringly full of familiar taverna favourites served in a friendly and relaxed manner; and some some pretty good Greek wines too.
The Real Greek Marylebone
56 Paddington Street London W1U 4HY     ( Nearest tube: Baker Street)
Tel: 020 7486 0466 Email: marylebone@therealgreek.com
There are six Real Greek restaurants in London and full information, menu and wine list can be found on their website  http://www.therealgreek.com