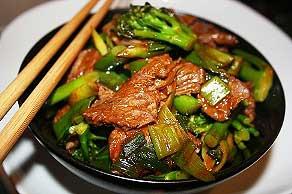 Korean food is massively underrated in this country. My first taste of it was in Los Angeles, where there is a huge Korean community resulting in hundreds of restaurants located all over the city serving classic Korean food or Korean barbeque as its better known. Koreans are infamous for their barbequing of meat. In most Korean restaurants, each table will have a gas-fired grill smack bang in the middle of the table. Diners customarily order a selection of marinated meats and fish and actually grill the meat themselves at the table. Cool, no? Well, I can't seem to get enough of the stuff and my favourite Korean restaurant in London is Arang, who see my face regularly, along with all the friends I take with me.
Bulgogi is the national dish of Korea and literally means 'Fire meat'. When I visited Seoul, the locals didn't seem to understand my requests for Bulgogi, but I did get to try some other very tasty dishes. Bulgogi is thinly sliced meat (usually beef and sometimes pork) marinated in simple sauce made using just a few ingredients. Then after a few hours of marination, the meat is ready to be fired up on the barbecue and this is really where the flavours become smoky and sweet and make the classic Bulgogi. Spring onions are a standard addition, but when making this dish at home, I use a wok and add a little broccoli into the mix and serve it with a little rice. The perfect meal for any night of the week.
Serves 2
Ingredients
250g of lean steak, like sirloin or rump (I use Onglet which is cheap and delicious)
10 pieces of 'tenderstem' broccoli or 1 normal head of broccoli, chopped in chunks
Some oil for cooking
Cling film
For the marinade
6 tablespoons of light soya sauce
2 tablespoons of toasted sesame oil
2 tablespoons of caster sugar
6 peeled garlic cloves thinly sliced
1 bunch of spring onions chopped into 1cm thick slices
Method
You need to marinate your meat first of course and there is no reason that this cannot be done the night before, but a couple of hours will suffice. So first of all take your meat and thinly slice it into ½cm thick slices which are suitably bite-sized. Then place your meat into a large mixing bowl, add all your marinade ingredients and using your hands, mix the ingredient well for a couple of minutes, to ensure the sugar is virtually dissolved in the other ingredients and the beef gets an even coating of sauce, before covering it with cling film and placing in the fridge to marinate.
After a minimum of 2 hours, take the meat out of the fridge (about 30 minutes prior to cooking) and then using a wok or a deep pan, on the highest temperature possible, preheat your pan and when it is red hot, add a little oil and quickly fry your broccoli for 30 seconds. Then using a slotted spoon, scoop your beef, garlic and spring onions out of the marinade and fry them making sure you keep them constantly moving. At such high temperatures, you need to keep everything moving to prevent it sticking to the pain. After about 30/45 seconds, the meat should start to brown at the edges and cook through, which is when you should add some more of the marinade to the pan to make a sauce for your Bulgogi. Add as much of the marinade you like, just make sure you cook it through for 15-20 seconds and then you are ready to plate up and serve with a steaming hot portion of rice.