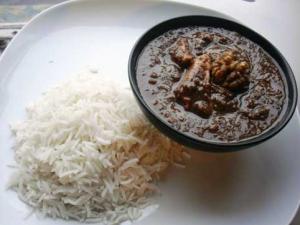 Concluding my series of Persian cookery, my final offering is a wonderful and special dish from Iran called Khoreshteh Fesenjan ('Khoreshteh' means 'Stew of') Fesenjan is a rich, glossy ragout of walnuts and pomegranate syrup with chicken which is served simply with some basmati rice. Most Iranians use chicken these days, I love using thigh meat as it retains its tenderness, moisture and flavour despite the cooking time, but the old Persian recipe uses duck or even tiny little lamb meatballs, all equally delicious.
My best advice to you would be to make this dish from the day before really, as with Persian stews (and indeed most stews) they are usually best the day after they have been made as the ingredients can stew properly as the stew cools down, giving a much fuller flavour the following day. The actual preparation is easy as there really are only a few ingredients involved. This unique dish is a great favourite of us Iranians so I hope you will give it a shot and make it one of your favourites too.
(Serves 6-8)
Ingredients
8 x Good sized chicken thighs (skin on or off, your choice)
1 x Large (or 2 small) onions
550g of walnuts, finely ground in a food processor
1 x tablespoon of plain flour
2 x tablespoons of caster sugar
300ml of pomegranate syrup
3 tablespoons of olive oil
1 tablespoon of Maldon sea salt flakes
Black pepper to taste
Water
Method
You will need two large (and deep) cooking pans for this. Preheat them both on a medium heat and add oil into on of them and fry your onions until translucent and beginning to brown. Then season your chicken on both sides with salt and pepper and add them to the onions, turning the temperature up and stirring the pan well to ensure you seal the chicken well, then turn off the heat and set aside.
In your other pan, add your plain flour and almost 'toast' it a little bit until is becomes a pale beige in colour. Then add your walnuts and fry the mixture through a little. You won't need oil as the walnuts themselves have a high fat content. After about 5 minutes, add about 2 pints of cold water, stir well and bring the mixture to a slow boil. Cover with a lid and allow to bubble for about an hour on a low-medium heat. This process will 'cook' the walnuts and you will see oil rise to the surface after an hour, which means it's cooked through.
Now, add the sugar and all your pomegranate syrup to the mix and stir it for about a minute. Take your time to stir it pomegranate syrup, as its thick consistency means it takes a while to fully dissolve into the stew. Then add the contents of your other pan into the walnut and pomegranate mixture, add enough water onto the mix to cover the contents and slow cook on a low temperature for approximately 2 hours, stirring thoroughly once every so often to ensure you lift the walnuts from the bottom of the pan so they don't burn.
As this stage, what initially looked beige has now turned into a rich, dark, almost chocolatey looking mixture. The flavour is deep and sweet with a nutty texture and a wonderfully gentle acidity that cuts right through the richness of the dish, almost rinsing your palate after every mouthful. Serve with a steaming mound of basmati rice and find a corner to enjoy your meal in peace, because this dish deserves nothing short of 100% of your undivided attention.