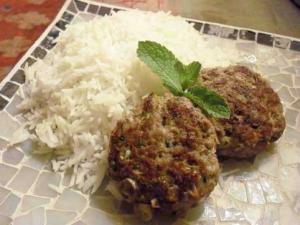 So many countries around the world have their own version of these meaty patties and it just goes to show you how versatile they can be. I love every single version of them, but here is my own version that borrows its earthy spices from the middle east, but takes its heat from the fiery chillies that the Indians use to flavour their version. I like to serve mine with aromatic Basmati rice, which makes the perfect accompaniment.
(Serves 4)
Ingredients
500g minced lamb (minced beef works well too)
4 inches grated ginger
2 red chillies
4-6 garlic cloves
1 teaspoon of turmeric
8 spring onions (white parts only)
½ heaped teaspoon of cinnamon
1 heaped teaspoon of ground cumin powder
1 tablespoon of Maldon sea salt
½ teaspoon of cracked black pepper
1 very generous handful of coriander
Tablespoon of cooking oil
Method
Place your lamb mince into a mixing bowl. Finely chop your chillies and garlic and thinly slice your spring onions and add them to your lamb. Add all your seasonings and spices to the lamb and finely chop your coriander and also add to the lamb. Using your hands, really work in all the ingredients into the mince and ensure the are all well incorporated and divide the mixture into balls (roughly the size of golf balls) and pat them down to flatten them. They should be approximately 3 inches wide and about 1 inch thick.
In a preheated frying pan on a medium-high heat, add your oil and without overcrowding your frying pan, fry several of the patties at once. Once in the pan, don't keep moving them around, just leave them to colour nicely on each side, allowing 6-8 minutes cooking time on each side. Once cooked, serve immediately.
Great with rice, but naan bread or tortilla wraps are also a great way to eat them, perfect with a drizzle of thick Greek yoghurt.