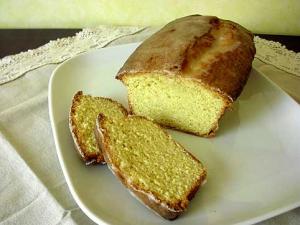 When chocolate cake just isn't doing it for me, this is simply the only choice for me. Something about moist vanilla sponge with a sharp citrusy sugared crust, satisfies my taste buds on all accounts. I have added quite a generous amount of grated lemon rind to the recipe, because I love the aromatic scent and zesty flavour of the peel running through the cake. Its yummy, there is no other word for it. I made stacks of them over the Christmas period and gave them away to colleagues, friends and neighbours as foodie gifts. But it doesn't have to be Christmas for you to enjoy this lovely treat and even better, once baked, they last for over a week when well wrapped in cling film and stored in a dry and cool place. Enjoy it folks, because the next few weeks will be focused on sensible eating, in keeping with the New Year's resolutions and diets… But I don't believe in diets! I believe in DELICIOUS food… So watch this space!
Ingredients
For cake:
3 large eggs
200g of caster sugar
200g of unsalted butter (softened)
200g of self raising flour
1 tablespoon of best quality vanilla essence
Grated zest of 2 unwaxed lemons
For drizzle:
150g of caster sugar
Juice of 1 whole lemon
Non-stick oven paper (to line loaf tin)
Method
Preheat your oven to 180 degrees (170 if fan assisted) and in a bowl, mix your butter and sugar together until creamy. Then mix in the eggs, one at a time and mix in your vanilla essence. Add your grated lemon zest and sift your flour into the bowl and mix everything until it resembles a smooth and evenly mixed cake batter. It goes without saying, if for some reason, the mix is too runny, add a little more flour and to rescue the mix if it is too dry, either add a little milk or simply a little water (but just a little bit)
Line your loaf tin with oven paper and pour in the mix leaving about 1 inch space clear of the top and bake in the oven for 45 minutes until golden. 15 minutes before your cake is done, mix your remaining caster sugar with the juice of a lemon ready to drizzle over your cake. Once the cake is done, test the centre of the cake using a skewer to see if it has cooked all the way through and if so, remove it from the oven.
Whilst the cake is hot, stab the cake repeatedly with a skewer (as deep as possible) and pour over the sugar and lemon drizzle mixture until it forms an even sugar crust on the surface of the cake (this can be messy so do it on a tray on plate) and leave the cake to cool completely, at which time the drizzle solidifies, creating the PERFECT lemon drizzle cake. Cup of tea, bit of privacy and watch the deliciously moist cake disappear in a matter of minutes.