Chilli is really one of those dishes that has been globally annihilated. Everything from dodgy takeaways, microwave ready Chilli to cheap café quality mush that really is no substitute for the real deal! This Chilli recipe is an authentic and delicious one and contains a surprise ingredient of Cocoa that really adds a smokey depth of flavour. So forget minced beef and 'ready in minutes" Chilli, this is one pot, slow cooking that's both economical and a firm family favourite. The perfect warmer for windy autumn months ahead. I used skirt steak, which is a cheap and delicious cut of meat perfect for slow cooking, but you can use any cut of beef suited to slow cooking and if you prefer, you can substitute beef for either lamb or pork or even vegetables! Its entirely up to you.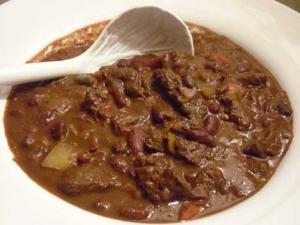 (Serves 4)
Ingredients
600g diced skirt steak
1 large white onion, roughly chopped
2 whole red chillies, finely sliced (or ½ teaspoon of dried chilli flakes)
3 fat garlic cloves, crushed
1 heaped teaspoon of ground cumin
2 heaped teaspoons of paprika
2 heaped tablespoons of best quality cocoa powder (I use 'Green & Blacks')
1 heaped teaspoon of dried oregano
2 heaped tablespoons of tomato puree
1 x 400g tin of chopped tomatoes
1 x 400g tin kidney beans
1 red & 1 green pepper diced into inch square chunks
300ml of chicken or vegetable stock
1 tablespoon of Maldon sea salt
Generous seasoning of black pepper
3 tablespoons of cooking oil
1-2 tablespoons of water
Method
Using a large heavy cooking pot preheated on a high heat, add 1 tablespoon of your oil and your beef to the pan and brown the meat quickly, keeping it moving so it doesn't stew (which is when water begins to come out of the meat) You want to colour the meat, because colour means flavour. Once done, remove your meat from the pan and set aside.
Turn down the heat on the medium heat and using the same pan (which should contain all the meaty goodness of the meat you just browned) add the remaining 2 tablespoons of your oil followed by your onions. The aim is to cook the onions through, without burning them. If you feel they are burning, reduce the heat and temporarily remove the pan from the direct heat source for a few minutes and then place back on the lowered heat source. Just as you see the onions become translucent, add your garlic. Garlic burns really quickly and becomes bitter, so it is important to not to add it too early. Once the onions begin to brown, add your cumin, paprika, dried oregano, chilli and cocoa and mix well with the onions. If you feel the mix has become bone-dry and is stick to the pan, then add 1-2 tablespoons of water, which should sizzle nicely and give you that extra bit of moisture you need in the pan. Then add your tomato puree and mix well and allow it to cook through for a few minutes, before adding your meat to the mix and ensuring it gets coated well with all the spices and onions.
Finally add your tin of tomatoes, salt & pepper, chicken or vegetable stock and your kidney beans and diced peppers and give the whole pot a stir and place on a low heat and cook for a minimum or 2 hours. The longer you cook this for, the better is gets. I would give the mixture a stir every 30 minutes to ensure the bottom doesn't burn. Once done, serve with rice or potatoes or a simple hunk of crusty bread. With its deep, rich and almost smoky taste, no matter how you have it, it's absolutely wonderful!