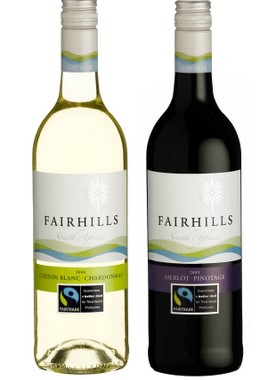 Fairhills, a progressive Fairtrade wine brand, is using Fairtrade Fortnight 2009 as a way to urge its customers to think about 'what's in a glass'. This year, Fairhills is investing over £220,000 in Fairtrade projects across South Africa, Argentina and Chile. In one glass of Fairhills wine, drinkers can not only enjoy fruity reds and whites, but they can also be assured that 5p from every glass will go toward helping people in South Africa, Argentina – and now Chile, which has just this month been awarded Fairtrade accreditation.
n South Africa, Fairhills runs projects ranging from daycare centres to literacy courses for more than 1,200 beneficiaries. £400,000 invested by Fairhills in communities helped to pay for playgrounds, new housing, electricity and clean water. In Argentina, the Fairtrade project has inherited several hectares of new land. And workers on the wine farms and their families will be able to create new sports facilities for the community. They are also being taught to read and write – and some of them are even learning English. Various other projects are well underway, including a programme to provide clean water, and shoes for children.
In 2009 Fairhills will start waste recycling programs, further housing improvements and continue computer literacy programs in South Africa. They plan to implement a health monitoring programme and water filtration systems in Argentina.