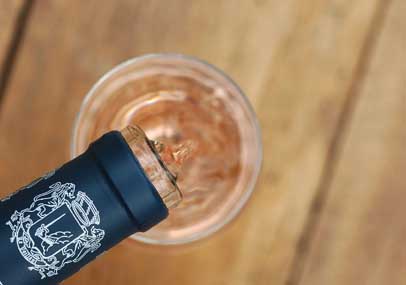 Tradition dictates that the sale of wine 'En Primeur' is not something that generally happens to the blushing pinks of the wine world, but is the preserve of more 'serious' wines from a particular left or right bank. The decision by the novel online wine retailer www.fromvineyardsdirect.com to release the 2008 vintage of Château Pontet Bagatelle Rosé En Primeur is, therefore, likely to raise a few eyebrows – with orders limited to a maximum of five cases per person.
This might at first appear the absurdist ravings of someone very new to the wine world. But as it originates from Mr Pink himself, Esme Johnstone, and pre-empts the inevitable price rise as the Pound continues to devalue against the Euro, it does represent perhaps the first genuine real summer deal of the year (the wines will be available in April).
Esme was the co-founder of Majestic Wine and it's the first time since selling Château de Sours, (whose rosé wine the late Auberon Waugh referred to as 'probably the best rosé in the world), that Esme has found a pink he's been really impressed by. Such is his belief in Pontet Bagatelle rosé, he and business partner David Campbell are offering a small allocation 'En Primeur,' ie: before the wine is even bottled, for delivery in April 2009.
Describing his rationale for this decidedly unusual practice, Esme said simply 'It is the best Rosé from Provence, probably France. We want our customers to be able to enjoy this wine without paying through the nose."
This stunning rosé made a dramatic debut on the UK market last year, garnering much praise in the national press. It is understood that the quality of the smaller 2008 vintage (due to both the vintage and the handpicking/hand selection process) surpasses the inaugural vintage for this AC Coteaux d'Aix en Provence wine, which is retailing now 'En Primeur' through www.fromvineyardsdirect.com for just £7.45 a bottle, including all taxes and free delivery.
The wine can also be purchased online by Irish customers, with a dedicated www.fromvineyardsdirect.ie office now trading in Dublin overseeing the business' first expansion outside of the London office and representing its first venture into a European market.
Pontet Bagatelle Rosé 2008 is the best affordable rosé to come out of the South of France for many years. It is simply in a league of its own. It is an extremely pale, attractive pink packed with understated fruit flavours. A very well made wine with perfect balance and acidity. Garry Stephen, the Australian proprietor, sacrifices nothing to attain perfection with his rosé. The entire harvest is handpicked and carefully sorted before a long temperature controlled fermentation. The 2008 vintage epitomised his approach, reaching a new level of quality.
There are only 200 cases available 'En Primeur' and a maximum of five cases per person limit has been implemented