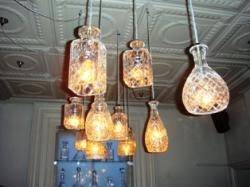 Coquine opened its doors to a battery of invited guests earlier this week. This new cocktail lounge/restaurant launched on a river of champagne, which merged into several tributaries of interesting cocktails.
Coquine has some interesting design features for their customers to enjoy. As we entered this plushly decadent styled bar, we were greeted by clubby dance music and a glass of champagne. We sipped as we explored what the entrance level bar had to offer. Features included comfortable seating areas to the front and a mirror topped high table to the rear. Above the high table was an array of some ten decanters of all shapes and sizes with their bases cut off, used as pendant lamp shades, like a huge hap-hazard chandelier – a decanterlier, if you will. Somewhat brighter than the rest of that level, or indeed the rest of the establishment in its entirety, this created a space that I would imagine a group of ten or twelve might occupy and which would be easily cordoned off for a private party.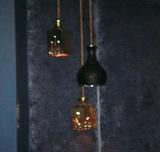 A few glasses of bubbly later we descended to the basement and the decadence factor grew enormously with every step. Whilst there we took the opportunity at the downstairs bar to tributise into some blood red fruity creations to drink while we took in the scene. In this basement area there are two small alcoves to one end, at the front of the building, that look like they might have originally been cellar storage areas. These have been converted into private seating areas with banquette seating, each framed by substantial architraving, making them into living pictures. To one side there were two further, similar, but shallower recessed areas that had been given the same treatment. The predominant decor features in the whole place is, what looks like blue/grey velour (it was quite dark) and a darkish blue tiling featured to some walls and ceilings.
We understand that as well as drinks and cocktails, Coquine will also have a menu of tapas style dishes on offer and some larger plates.
This place will undoubtedly find its niche in the market. I could quite imagine hen parties or groups of twenty/thirtysomethings – maybe even older trendies – meeting for a night of cocktails and nibbles before the DJ strikes up at around ten in the evening (Thursday to Saturday) and their night of revelries begins. It is clear that a lot of thought and effort has gone into creating the space and its aura of respectable decadence, why not go there and enjoy a cocktail or two while you take it in?
Coquine, 160 Old Brompton Road, London, SW5 0RA www.coquinelondon.com