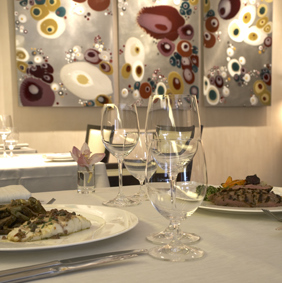 The New Year in Italy is one of the most festive holidays of the year, celebrated in some regions for up to twelve days. Families and friends gather for Cenoni, a huge feast, and after dark, the sky is so filled with fireworks that pedestrians are told for their safety to avoid sidewalks and walk down the middle of the street. In keeping with this important Italian tradition, award winning Theo Randall has put together a five-course menu for New Year's celebration at the InterContinental.
Located in Mayfair, the Theo Randall kitchen team and Chef Randall are putting together a first course of champagne and canapés. Main course dishes include seared Aberdeen Angus beef fillet carpaccio with black truffles, rocket and parmesan; fresh cappelitti stuffed with slow cooked veal, pancetta and white truffles; roasted seas bass with capers, parsley, violet artichokes and Roseval potatoes with thyme.
The Italian restaurant specialises in regional rustic Italian cuisine and fine wines, hand-picked daily by Theo himself. In September 2008, the Intercontinental was named Best Italian Restaurant at The London Restaurant Awards. Randall opened his restaurant in November 2006 after a £76 million refurbishment.
New Year's Eve is priced at £135 per person and includes a glass of champagne, canapés, live entertainment and a five-course set menu. Book online at www.theorandall.com