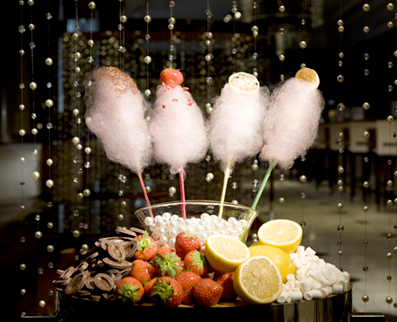 how excited a simple stick of candy floss made you feel? Pearl Restaurant and Bar has discovered a new way to infuse a little fun into every dinner party. Every Saturday, dessert at the Pearl will include petit fours and candy floss in gourmet flavours like marshmallow, chocolate profiterole, lemon, and strawberry. It took Head Pastry Chef, Ben Knell, three months of sampling and testing to create his final version of candy floss which uses only half a teaspoon of granulated sugar.
The floss is a good way to satisfy a sweet tooth without too much over-indulgence. And each flavour includes something special inside. Marshmallow has a freshly-made marshmallow infused with vanilla seeds, piped onto a brightly coloured stick, beneath the candy floss. Chocolate Profiterole is filled with Chocolate Chantilly and finished with rich chocolate flakes, while Lemon has lemon pâtes de fruits at the top of the stick and the candy floss outside is dusted with a fine lemon confit powder.
With over a million hand-strung pearls shimmering in the building, Pearl's atmosphere adds to the magic of their new dessert. Pearl is noted for its modern French cuisine created by the Executive Chef, Jun Tanaka.
Pearl Restaurant & Bar, 252 High Holborn, London WC1V 7EN
Tel: 020 7829 7000 or www.pearl-restaurant.com