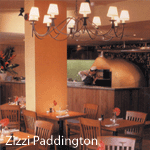 Let Zizzi Ristorante's wood roasting pizza oven take the chill off British weather as you settle in to enjoy a choice of hearty Italian dishes for under £10. Head Chef Angelo Garofalo was inspired by traditional and contemporary Italian food trends while selecting ingredients like slow roasted aubergine, roast chicken, pancetta and fresh rosemary. His winter menu includes Risotto Al Funghi Con Pollo: creamy wild mushrooms, roasted chicken and fresh rosemary.
He added satisfying desserts such as Torte Zizzi, a warm plum, almond, fig and pistachio tart with vanilla ice cream. The soothing menu also includes grilled meats and fish dishes such as Seabass Pacchetto.
'Italian food is all about fantastic ingredients, simply prepared," Garafalo said. '[And it] shouldn't cost the earth. If you start with great food, a great dish can be created and that is what we believe in." Italian wines are also available, chosen by Adrian Garforth, Master of Wine. Choose from Trebbiano to Fiano Settesoli to Primitivo and Chianti. Pinot Grigio Marat, also on the list, is made from a single grape harvest, picked at night, to conserve more of the delicate fruit flavours.