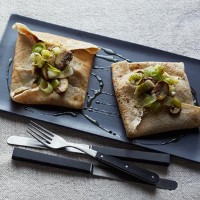 For something a bit different, try this delicious savoury pancake recipe from Waitrose.
Preparation time:15 minutes
Cooking time:15 minutes
Total time:30 minutes
Ingredients:
For the pancake
50g plain flour
50g Waitrose Dark Rye Flour
Pinch of salt
1 essential Waitrose British Blacktail Free Range Egg, beaten
300ml milk
For the filling
50g butter
2 leeks, washed and shredded
2 cloves garlic, crushed
250g pack chestnut mushrooms, sliced
200g button mushrooms, sliced
Oil, for frying
150g pack Boursin with Black Pepper
Method:
1. Place the flours and salt in a bowl, make a well in the centre and add the egg. Then gradually beat in the milk to form a smooth batter. Set aside. 
2. Melt the butter in a frying pan and gently cook the leeks for 4–5 minutes until they have softened. Add the garlic and mushrooms and cook until softened.
3. Meanwhile, heat a little oil in a frying pan. Once hot, pour a little of the prepared batter into the pan, and rotate it around so that there is an even layer. Cook for 1–2 minutes until the surface is firm to touch and slightly darker in colour, then flip the pancake over and cook for 1–2 minutes, or until golden. Set aside and keep warm. Repeat to make 4 pancakes.
4. Divide the leek mixture between the pancakes, top with a generous cube of the Boursin, and serve with the sides folded in towards the centre.