Liverpool Everyman Theatre Bistro, 5-11 Hope Street, Liverpool, L1 9BH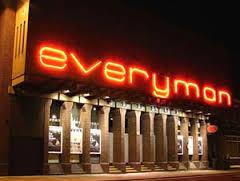 A bistro in a theatre. That floats my boat already. The buoyancy is strengthened further because I discovered the Everyman Bistro through word-of-mouth. Admittedly the majority of restaurants I visited during my time in Liverpool were found through search engines and/or faceless PR agencies – but more often than not the traditional methods of obtaining information prove to be the most fruitful if you're looking for a hidden gem. The one venue that came up repeatedly in conversation with locals, albeit it not traditionally known for being a restaurant, was The Everyman Bistro.
The Everyman Theatre is an institution and its reputation spreads further than the city of Liverpool's boundaries. I caught a Pinter play and I suggest, should you have time, you also take in a bit of cultural offering from the theatre. Plus, if you do, you can also take advantage of the bistro tucked neatly in the basement under the box office.
It's a low-lit cosy bistro, canteen-esque, but more frills than a drive-by diner. The shades of brown and choice of wooden furniture give you the feeling that you're in a cosy and comfortable venue that taken pride in its food, rather than churning out produce to pay the rent. There's a clear direction of supplying good, honest, hearty dishes and satisfying all diners.
I wouldn't necessarily recommend a three-course meal here, but it's well worth coming earlier than your performance and tucking into some decent flavours. Personally I'd order a handful of dishes that you can share with one another. We split three dishes between two of us on this occasion, with each dish containing some sort of broth/gravy that we could mop up with what turned out to be pretty darn good bread.
Tearing and sharing bread is something I enjoy – the only was it could possibly fall down is if the moist accompaniment is crap. Thus, as long as I'm provided with decent butter, oil and/or gravy/sauce then everything is going to end amicably. The gravy/sauce option seems more appropriate in these surroundings. Three different dishes, three different dipping options, off we go.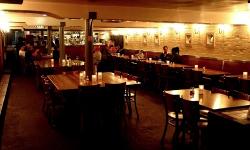 Let's go proper gravy first – onion gravy to be exact, poured over some traditionally English bangers and mash. The quality of the sausage reaffirms that we're not in a greasy spoon – there's no paper-like texture to the sausage skins and the mash has no lumps. Once those lush ingredients are devoured you're left with a rich gravy that's absorbed the juices from the premium pork meat sausages and thickened by the creamy lump-free mash.
A meatier dip can be obtained after devouring the stodgy parts of the chilli con carne bowl. Ok, I've never jumped on the chilli con carne gravy train before, it's good but it's not the way I'd like my meat, veg and gravy served to me. Still, with it being heavily recommended, I'm prepared to give it a go and as it turns out, it's a better offering than I've experienced. Still baffled as to why people put chilli con carne on hot dogs and burgers, but in a bowl over some al dente wedges, it works. There's not a great deal of spice heat, but it's got that tomato richness to the liquor.
There's an undertone of augh-haugh-hee-haugh about the bistro, as you'd probably expect. So with that influence oozing into our minds we grabbed a bowl of Moules Mariniere and lost ourselves in the split, slurp, discard and repeat motions. These are big buggers of mussels with a firm texture to them, plenty to bite and chew. They're swimming in the traditional sauce that's heavier on the white wine than the cream, balanced well and incredibly moreish.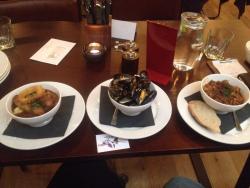 Ok – it's not the most traditional of reviews and arguably if you want a three course meal then there are better options. If you like culinary experiences and finding little gems that locals know to be great places for food, drink, atmosphere or price, then you can wrap all those up into the Everyman Bistro. Go for the theatre, obviously, but stay for some bold, hearty flavours.