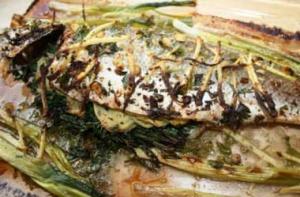 Summer is here and the hot weather makes me crave lighter meals with plenty of fresh fish and seafood. Vietnamese food is a wonderful cuisine, bursting with flavour and wonderfully fresh aromatics, its healthy, delicious and perfect when you want to eat light.
This recipe is easy because you simply roast it whole in the oven, but it would also be absolutely fantastic on the BBQ too. Even better, which aromatics you choose to flavour your fish are entirely up to you, but here is my favourite way to enjoy the fish
Serves 1 as a main or 2 as a starter or side dish
Ingredients
500g whole seabass, ask your fishmonger to clean and de-scale it
150g of ginger, peeled and sliced into thin matchsticks and also 8 thin round discs
1 packet of fresh coriander
1 stalk of lemongrass, bashed and thinly sliced
4 shallots, thinly sliced
A few shakes of fish sauce
A few shakes of soy sauce
Boiling water from the kettle
1 bunch of spring onions (optional)
Maldon sea salt
Black pepper to taste
Method
Preheat your oven to 180 degrees. Place your cleaned seabass in an ovenproof dish and season the cavity with salt and pepper. Then stuff the cavity with the discs of ginger, sliced shallots, half of your lemongrass and scrunch up your coriander and add that too. Sprinkle the remaining lemongrass and matchsticks of ginger on top of the fish and add a few shakes of fish sauce and soy sauce and a little salt and pepper too.
At this stage, pour in about 300mls of boiling water and if you like, add some whole spring onions into the dish and bake your fish for 30-35 minutes. The easiest way to tackle the fish is by removing the top fillet and then pulling out the bone in one fail swoop, leaving the second clean fillet remaining.
I love serving this with some plain steamed rice and soy sauce. It's simple, fresh and perfect for the summer!