Buying Christmas gifts for food lovers can be a minefield, especially when you enter the realm of kitchen gadgetry. This year get them something they'll really use that's not destined to build up cobwebs in the cupboard under the stairs. Here are our Top 5 gadgets to give this Christmas: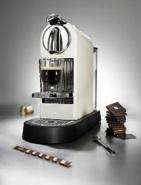 The Nespresso coffee maker is bound to leave any coffee lover grateful on Christmas morning. It's small enough to not take up a massive area of valuable kitchen counter surface, it's stylish and sleek, simple to use and the coffee capsules it uses are inexpensive at about 26p each.
The KeepCup makes a great small gift for coffee fiend friends. It's a reusable cup that you can take to your favourite coffee chain and use instead of the seriously un-eco-friendly paper cups. Estimates suggest that paper cups account for 4.5 million tonnes of landfill every year, so this is an easy way to do your bit for the environment.
With the days getting colder and darker, there's something increasingly appealing about stews, soups, casseroles and curries. The Cuisinart Slow Cooker makes easy work of all these dishes with it's sleek design and fuss free slow cooking abilities. Perfect for both experimental home cooks and beginners!

Although the weather is getting chillier it doesn't mean that ice cream isn't still a guaranteed crowd pleaser. What makes The Cuisinart Duo Ice Cream Maker special is that it has twin 1 litre bowls so you can make double the quality or 2 different ice cream varieties at the same time.
The Cooks by Gordon Ramsay Searing Grill may seem like all the others, but alas it is not. As the name suggests it's got searing capabilities in the form of its "unique 'burst' temperature feature that reaches 260° for 90 seconds, sealing in juices, and caramelising food on the outside for added flavour". The grill knocks out succulent steak and pretty grilled vegetables quickly and with very little effort.